Have You Ordered Your Transitional Requisitions?
---
In preparation for ICD-10, we have created requisition forms which include ICD-9 and ICD-10 codes. These transitional requisitions were designed for ease of use and to assist when ICD-10 went live on October 1st, 2015.
In spring, 2015, we began the process of updating all of our test kits with transitional requisitions. Currently, the vast majority of test kits include the updated transitional requisitions. For a list of the test kits which do not yet have transitional requisitions, please see below.
To confirm whether your kit needs an updated requisition, please refer to the image below depicting the diagnosis code section of the requisition. If your picture is similar to the image on the page (which includes both ICD-9 and ICD-10 coding), you are using the correct requisition.
If the image looks different, please call us at 800.522.4762 or email us to let us know which test(s), you need transitional requisitions for and we'll do the rest.
Why does the test requisition form look different?
Our requisitions have changed to reflect the upcoming ICD-10 changes. We have created a transitional test requisition form that has both the ICD-9 and corresponding ICD-10 codes for ease of use.You need not change the way you fill out the requisition. We've added the code conversion graphic as a diagnostic tool for your use during the transition to ICD-10 only requisitions.
Learn More about ICD-10
The Centers for Medicare and Medicaid Services is requiring the ICD-9 code sets used to report medical diagnoses and in-patient procedures be replaced by ICD-10 code sets on October 1, 2015.
The International Classification of Diseases, 10th Edition, Clinical Modification/Procedure Coding System (ICD-10-CM/PCS) consists of two parts:
ICD-10-CM codes are used for diagnosis coding in all U.S. health care settings.
ICD-10-PCS codes are used for inpatient procedure coding in U.S. inpatient hospital settings only.
Why is this transition necessary?
According to the Centers for Medicare & Medicaid Services (CMS), the ICD-10 transition is occurring because of the following:
ICD-9 codes produce limited data about patients' medical conditions and hospital inpatient procedures.
ICD-9 codes are 30 years old and have outdated terms, which are inconsistent with current medical practice.
The structure of ICD-9 codes limits the number of new codes that can be created, and many ICD-9 categories are full.

Diagnosis coding under ICD-10-CM uses 3 to 7 digits instead of the 3 to 5 digits used with ICD-9-CM, but the format of the code sets is similar.
ICD-10-PCS uses 7 alphanumeric digits instead of the 3 or 4 numeric digits used under ICD-9-CM procedure coding. Coding under ICD-10-PCS is much more specific and substantially different from ICD-9-CM procedure coding.
What does this mean for your practice?
This federal policy change will require practices to begin utilizing the new sets of ICD-10 codes to document and report medical diagnoses for all clinical activity. As you would expect, this new federal requirement extends to laboratory diagnostics. We will be required to receive ICD-10 code sets from your office for specimens with a final collection date on or after October 1, 2015, as ICD-9 codes will no longer be recognized.
Please note that the shift will not affect CPT coding for outpatient procedures and physician services.
What should you do next?
We're glad you asked! As your partner in diagnosing and treating complex chronic conditions, we are here to help make the ICD-10 transition as easy as possible. For now, you'll notice that our requisition will have both the ICD-9 codes and a subset of corresponding ICD-10 codes for ease of use. As we transition laboratory requisitions to be compliant, you will notice a different appearance in the diagnostic coding section. Please fill out the requisition exactly as you have in the past by providing the appropriate diagnosis code(s). We've provided a code conversion graphic on the transitional requisitions to serve as a guide.
The image below shows our transitional requisition that will feature both code sets until October, for your convenience.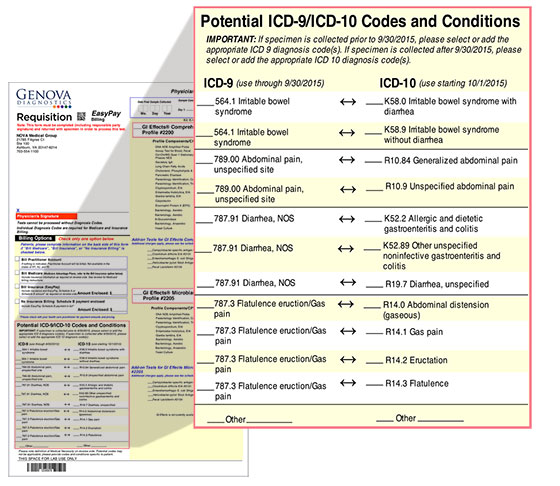 Additional resources available to assist with this transition
You can find more information on the World Health Organization's website. The Centers for Medicare & Medicaid Services (CMS) also have many free resources to assist with your ICD-10 transition, including fact sheets, implementation guides, checklists, and timelines, webinars, and provider teleconferences. Below are some links you may find helpful: