The GI Effects®
Interpretive Guide
The concise at-your-fingertips resource for interpreting GI Effects test results.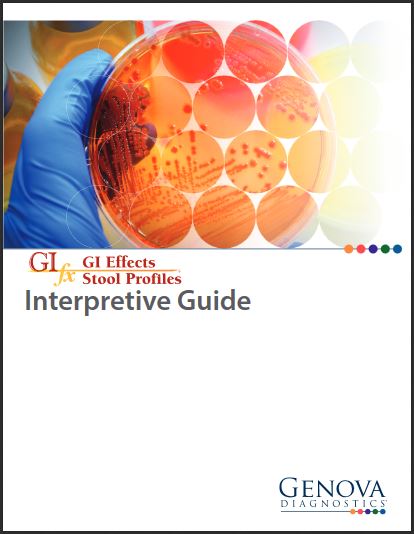 This guide goes beyond description of biomarkers and offers clinical interpretive points related to specific areas of concern that are flagged on reports.
Divided into Two Broad Sections,
the Interpretive Guide Provides:
INTERPRETATION-AT-A-GLANCE OVERVIEW
A color-coded summary of the Four Functional Pillars:

1 - Infection
2 - Inflammation
3 - Insufficiency
4 - Imbalance

Displays each potential graphic icon which may appear on

the report

Provides a handy reference chart for all biomarkers that inform each

Functional Pillar



A brief review of the significance of the Commensal Balance and Relative Abundance graphics
FUNCTIONAL PILLARS
A detailed tour of the Four Functional Pillars and their biomarkers:

Summaries of potential causes of abnormal results in each Functional Pillar
Therapeutic considerations presented in decision-tree format



Includes overall pattern recognition for common conditions through analysis of biomarkers
The GI Effects Interpretive Guide is a convenient ready-reference tool to support the therapeutic decision-making process for patients with complex gut-related conditions.
---